Following the success of the 2013/14 campaign where we were able to raise funds for schools, 'Smart Alec' is now refocusing his attention to local charities, close to our hearts.
In 2015 'Smart Alec' will be working with local charities. Everybody can play their part including teachers, pupils and even associated businesses.
The 7 steps to joining our 'Smart Alec' recycling Campaign:
1. Contact MPRO to register for the campaign
2. A recycling bin will be delivered and left at your school
3. We will supply your school with recycling bags and everything else you will need
4. The pupils will have the opportunity to win prizes
5. Other incentives will be available to encourage pupils to recycle
6. We will collect all handsets and tablets which will then be checked, valued and recycled
7. Payment will be made to your chosen charity
Let us know the charity information and we'll arrange it for you. You can even donate the money to the following charities that we already work with:

Fifty schools across the region have been taking part in MPRO's 'Smart Alec School Recycling Campaign'. The campaign began last summer and has raised approximately £2,500 for local schools and charities and over 1000 mobile phones have been recycled.
The aim of the campaign was to teach pupils key lessons about environmental issues, as well as raising funds for their own schools and charities. Each term a league table was released showing which school had donated the most phones. Taking into consideration the number of pupils in each school and the number of phones collected from each school.
At the end of each term the pupils' names were entered into the Smart Alec Mega Raffle where 1st, 2nd and 3rd prizes were drawn. The children had the opportunity to win Smartphones, tablets and accessories - a great incentive to recycle... Read more.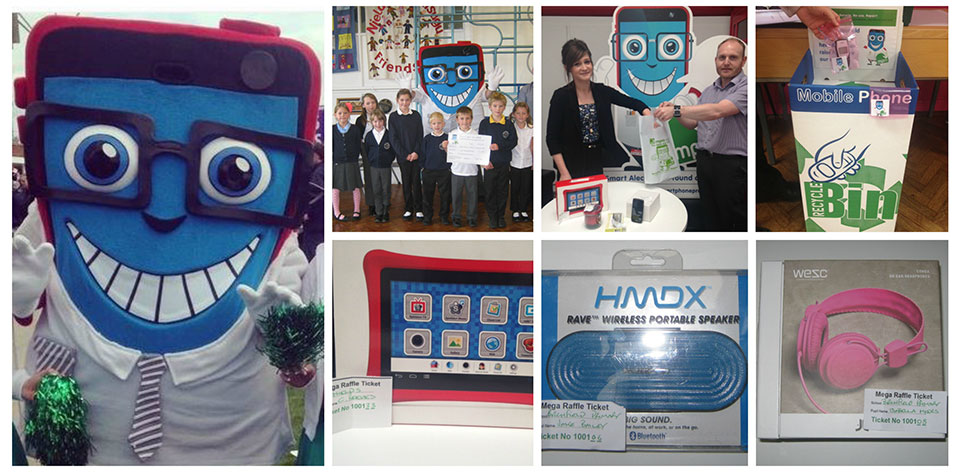 We are Yorkshire's Number 1 mobile phone recycling company, based in the heart of the Pennines with convenient access to the M62 corridor.
We recycle old technology, raise environmental awareness and try to prevent unnecessary landfill. Caring passionately about the environment, we are Waste Electrical and Electronic Equipment (WEEE) compliant. Click here to read more about WEEE
As an accredited company we go to great lengths to avoid potential data security risks. We permanently wipe all previous owners' data from handsets and memory cards, destroying any sensitive data.
In addition to recycling redundant mobile phones, we continue to acquire other Comms and ICT equipment, and also have the ability to repair, refurbish and customise your technology.